ENROL NOW
Now only $150.
Enrolments closing soon.
.
---
Get your puppy off to the best start in life with Woofers' Puppy School
The first 16 weeks of your puppy's life is their 'Critical Socialisation Period'. This is the time that you want to give your puppy the most positive experiences with Socialisation and Training to set them up for the rest of their life.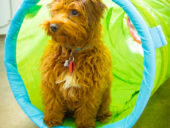 We'll guide you through what you can expect within the early stages of life with a puppy. Puppies don't tend to 'grow out' of unwanted behaviours. Woofers will show you how to work with your puppy to retrain these behaviours from the very start.
We also look at what it is that you want most out of your grown dog and show you how to build towards those behaviours. Whether it's tricks and obedience, a great family pet or a chilled out cafe dog. We want to help you develop and strong and enjoyable relationship with your new four-legged family member.
Woofers Puppy School is a six week course that will bring out the best in your new family member. Your puppy will play and train in a safe, supervised and controlled environment.
Our classes are full of practical exercise, puppy raising information, homework and plenty of time for Q&A.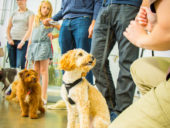 Small group classes are conducted by certified, experienced dog trainers. The understanding of dog behaviour and training is always changing. Methods that were once seen as the norm (dominance theory, rubbing their nose in it) are now seen as incorrect and ineffective. Our trainers are always updating their skills to give you the most up to date, humane and effective information.
Topics we'll cover include:
• The theory of dog training including reward timing and placement
• Basic obedience such as the sit, drop and recall
• Getting your pup comfortable with manual handling, grooming and restraint
• Socialisation to new people, dogs, sounds and environments
• Health and nutrition for dogs
• Addressing common behaviour issues such as toilet training, biting, chewing and jumping
---
Next Early Learning PUPPY SCHOOL class starts:
5Week Course: Commences Thursday 25/1/18 6pm to 7pm
5Week Course: Commences Saturday 24/2/18 1pm to 2pm
5Week Course: Commences Thursday 1/3/18 6pm to 7pm
Time poor? – We can come to you for private one-on-one training sessions if you prefer.
Call 1300 BOW WOW (269 969) for more information.
---
Also Woofers offers a Puppy Visit sessions during the day in which we will visit with your pet at your home to feed, toilet, play, pat, nurture, and reinforce your training just as you would. (we'll even clean up any accidents) – Woofers…..Caring when you can't!
Click here for full price list.