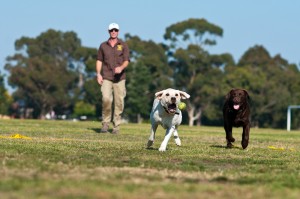 Our mission statement: Strive to provide value-based, convenient and complete pet care that enriches the lifestyle of urban dogs by providing exercise, socialisation and the opportunity to play freely in a safe and controlled situation.
Since 2005, Woofers has grown from one "not so lonely" dog walker who loved the pets like his own, to a very close knit family of trainers, handlers and groomers.  Currently (2015) we have 12 full-time staff that love what we dog and do what we love.
Unlike other medium sized pet care companies that appear more 'dog catcher' than 'dog lover', Woofers World exists solely to meet the need of urban pets and their owners, offering services such as dog walking, pet food delivery, dog training, high-end grooming and affordable and convenient holiday care solutions.
Read more…
Our commitment to you
COMMITMENT:  We want the best for your pet. Our team of career animal handlers and dog trainers will genuinely and consistently care for your pets' needs, 365 days a year.  At all times we'll act in the pets' best interest, and never put profit above pets.
SERVICE & CONVENIENCE:  Our aim is to give you the best service at the best price. Woofers has grown to be the number one family-operatored pet care provider in South East Melbourne by providing quality pet care and professional service, day in and day out. We aren't a franchise nor do we use sub contractors. Our team of professionals are all full-time staff.
We have a support team (Admin Team) to take your bookings and answer your calls when you need us. That allows our staff in the salon or out in the field concentrate on what you're paying us for… and not chatting on the phone.
We have a 24-hour veterinary surgery on call 365 days a year and as a Woofers client, you'll receive 24-hour phone support during your holiday care period. We're there for you when you need us and there for your pets when you're not.
EDUCATION: Our staff is continually undergoing training in everything from animal handling skills, feline first aid, canine behaviour to even animal CPR. Recently we had three staff undergo an extremely advanced Animal Management Course and currently have two team members completing nationally accredited and world recognised NDTF Dog Behaviour and Training qualification.
TRUST:  If dogs had bumper bars they'd choose a sticker that says "In Woofers we trust".  We treat your pets and property with the same care with which we treat our own. You've trusted us with both your animals and your home and we take that responsibility very seriously.  We operate as a close knit team. All new staff are background checked and elected democratically by the existing team to ensure we evolve in the right direction.  So by choosing Woofers you become a member of "our" family and we'd like you to think of us as a member of yours.
SECURITY: It hasn't happened overnight, but through years of improving we developed fail-safe systems to ensure the safety and security of your home and your pets.  Our internal systems ensure anything you charge us to do is done how and when you want it.  If you choose to provide us with access to your home, we will discuss our proven security measures with you in private.