Woofers new state-of-the-art Grooming Salon at 659 North Road. Ormond, Vic.
We are proud of the quality grooming and great styling that our salon staff consistently deliver.  We offer a full range of services to suit any budget, from a standard bath and brush, a bath and tidy or a full clip.
We can even provide advanced services such as hand stripping, show clips and full scissor clips.
Value and Convenience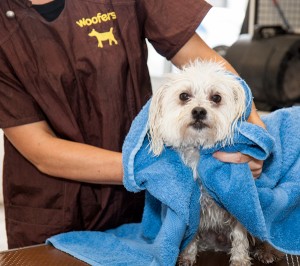 In order to maintain the best possible prices, grooming services are charged according to the time taken. As Woofers pet care is not a 'one size fits all' approach, no two dogs are the same, the type and condition of your dogs coat will vary and often each pet owners' requests will vary too, therefore by only charging for the time invested in your pet means we can make your dog look it's best at the best possible rate!
The senior groomer charge rate is only $65 per hour (includes gst) and we only bill for the amount of time we spend on your dog.
We operate on an all inclusive price. Each groom appointment includes everything you'd expect from a professional expert salon. We don't charge extra for nails, ears, paw pads etc, it's all inclusive in one simple price.
Our method of pricing provides you with value and encourages regular grooming which is healthier for the dog's skin and coat and nails. Regular grooming also leads to faster grooms, perfect for those pups who don't like the sound of dryers, clippers, or having their feet touched!
State of the art Salon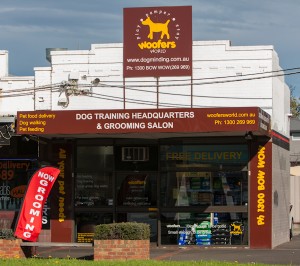 Woofers advanced bathing system (Hydro-Surge) uses only fresh clean rain water delivering your choice of premium shampoo and condition directly to the skin, lifting the coat and it's patented  variable pressure massage technology ensure a comfortable and relaxing experience for the dog.
We offer a full range of medicated, whitening, dematting or hypoalergenic shampoos, and even flea rinses and aour salon staff are alway happy to give learned advice about how to help you care for your pet's coat and skin.
Woofers Salon is located at 659 North Road Ormond. Victoria. Australia.  There is 15minute parking out the front or immediately across the road.  If you have young children and prefer not to leave the car you can call us when you are out the front and we'll come and collect the dog from you.
Woofers also offers a pick up and drop off service. Pet-taxi price is based on normal cab fares.
How long will it take?

We allow a four hour appointment time and have three drop off times throughout the morning to suit you. This allows the groomers a unique grooming process where in between each stage your dog can have a break and stretch their legs in the outdoor play area. We've found that allowing your dog time in between the various stages of grooming means they feel better, behave better and walk out the door looking great, feeling great and enjoying the experience each time they come.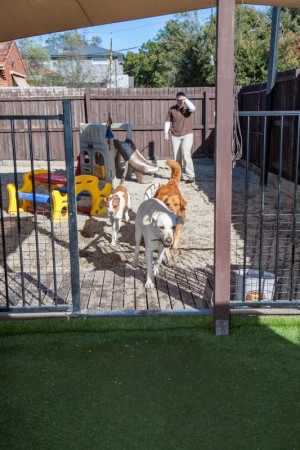 Woofers works closely with some reputable mobile dog groomers, so if you are unable to make it to our salon, try one of the referrals on our Useful Links page.  Or call 1300 269 969 for a quote.