Offering value & convenience
Price Summary for 2015/16
Click here to view the GROOMING price list
Click here to view a PDF of our 2015/16 GENERAL price list.
Woofers pricing structure is based on a low markup because we aim to be as affordable as possible without compromising the quality of care.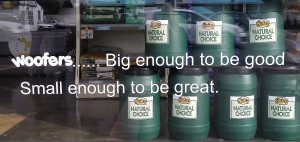 GENERAL DISCOUNTS:
We'll pass on the savings if our costs are reduced. For example, if your dog is social and we're able to group dogs together in playgroups, we'll pass savings on to you because the cost of the handler can be split. Or perhaps you have an ongoing booking that doesn't require a great deal of administration then we'll discount the outings to "Regular Booking" rate because the administration time is reduced.
GROOMING DISCOUNTS:
Grooming is charged in the fairest possible way; according to the time taken (hourly rate).  If your dog is calm and relaxed and it's coat is in good condition it often takes your groomer less time, hence we pass the savings onto you. If a dogs' coat condition requires a little more time it will be charged accordingly. There are no "surprise charges" – we don't charge extra for nail trimming, ear cleaning, hypoallergenic shampoos, etc. It's all included as the service you'd expect from a professional salon.
SURCHARGES – PUBLIC HOLIDAYS:
All services including Playgroups, Home Visits, Training and Pet Taxis etc incur a $15 surcharge on Public Holiday due to the added cost of staffing on these days. Park/Beach Parties do not run on public holidays and Woofers Grooming Salon and Office is closed.
There is no peak period nor public holiday surcharge for the Sleepover service.
CANCELLATIONS:
Playgroups, dog training, beach parties, pet taxis, etc are free to cancel or change anytime up until 24 hours prior. Last minute cancellations (i.e. less than 24 hours notice) are charged at full fee because we've already allocated staff for your pet and that spot can't be filled at last minute.
Sleepovers which are cancelled after the booking is confirmed (i.e. the place has been reserved for your dog) are charged an $88 cancellation fee.
WHY IS THE WEB-STORE SO CHEAP?
Fortunately, we use our buying power to secure great prices from our suppliers and unlike large brand pet-shops that rely solely on the sale of pet food for revenue, we amortise our operating costs amongst a range of services. Typically, we pass on a saving of about 10-12% off our competitors.  
COD:  All pet foods, grooming, dog training, and last minute sleepovers are paid for at the time the service is provided.  Payment is accepted in person at the office or with credit card over the phone. Our trainers do not carry cash and are unable to accept payments directly.
POST PAYMENT:  Sleepovers are charged to your nominated credit card after the sleepover finishes.  When confirming the booking you'll nominate a credit card to secure your dogs placement, then after you return form your trip and collect your dog we will charge your card for the number of calendar days your dog stays with the minders.
CUSTOMER ACCOUNT:  For dog walking, playgroups, pet feeding and other regular monthly services we operate on a post-paid system.  Essentially, you have an "end-of-month account" with us so you're free to use Woofers as little or as much as you like.  Each service is then added on your "end-of-month account".  Itemised invoices will be emailed in the first few days of the following month and we accept cash (in store) bank transfer or credit card over the phone.   Payment terms are 14days.
LATE FEES:  Our team is more interested working with the animals than chasing outstanding accounts so payment terms are strictly fourteen days credit. Late fees of $18.50 apply to each outstanding account and are cumulative every month the account remains unpaid. The late fee is charged to cover the additional administration cost.   Our accounts manager works part time and all billing queries can be emailed to billing@woofersworld.com.au.
DIRECT DEBIT:   For your convenience we offer a direct debit facility. Avoid late fees and credit card surcharges by returning your completed credit card nomination form.  Your invoice will be emailed to you at the end of the month. You will have 2 weeks to review your charges and then your balance is charged on the second Thursday of the following month.