Woofers has a over 30 years combined experience to help you train your dog.

No matter the problem, we'll be there every step of the way.
Jump start your dog training for only $110
Woofers dog trainers are full-time staff and we'll work closely with you and your pets to provide consistency and value in your desired dog training.  Our daily hands on experience with all types of behavioural issues means we can customise a training plan for you with realistic expectations.
Woofers can assist with;
Puppy Training (One on One or group classes)
Freestyle and tricks training
Aggression
Resource guarding
Maternity and dogs
Anxiety (separation issues and jealousy)
Recall (come when called)
Barking and destruction
Loose leash walking
Agility and all the fun stuff too
Also look out for our regular Master Classes held onsite at our dog training facility. Anything from Scent detection, pet first aid, Maternity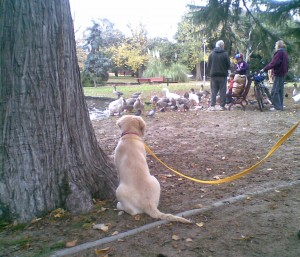 Most dog (behaviour) issues are solved in a few simple sessions by giving you, the dogs' family, the skill set to actively improve your dog's well-being and their feeling of the world around them.  Often with as little as two training sessions (consisting of a "Consultation" and at least one "Follow-up session") you will have tackled your issues and improving the quality of life for you and your dog.
We come to you or visit us at 659 North Rd. Ormond. Vic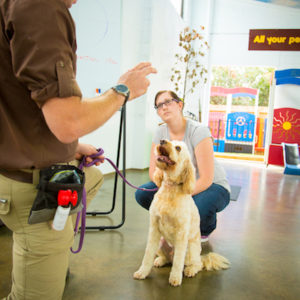 Woofers dog trainers advocate training methods that improve a dog's well-being by looking at the dogs' life holistically.  When teaching your dog and you, we'll consider your dog's diet, exercise, age, lifestyle, environment, genetics, temperament, physical ability and also your abilities and time commitments.
We'll strengthen your know-how so you can encourage the dogs' confidence and you can build yourself as a strong leader and develop the right sort of rapport so they listen each and every time.  As many dog trainers will tell you, the key to success is through consistency and fairness.  So when a Woofers trainer visits with you and your family we can align the entire household to ensure everyone does the same thing AND the right thing.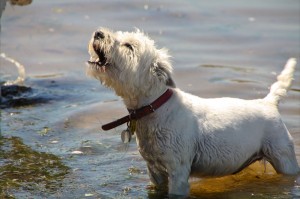 Poorly behaved dogs are common so don't feel badly.
You're not the only person who has ever needed help with their pet. You are moving in the right direction to making life with your dog more enjoyable and exceptionally rewarding.
No two dogs are ever the same and therefore training sessions and methods are never the same, so we offer customised packages for dog training. Typically you can expect our training process to start with a consultation at your home or onsite at Woofer HQ.
From that we'll follow your lead towards the outcome you're looking for and plan the best possible exercises that will teach your dog the right behaviours.
A canine is a complex social animal but often good manners are easily achieved.
Whether you're looking to have your dog play safely off-leash and come back to you when you called, or to walk on a loose leash while you go jogging, or perhaps you're just after the perfect cafe dog, all common good manners (behaviours) are achievable with consistency, timing, and fairness. And of course a little insight into your dogs cognition helps too.
We are happy to discuss options over the phone, call us to discuss which one of our trainer's specialities would suit your situation.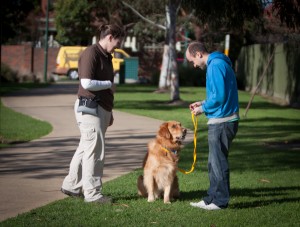 Woofers dog training sessions are priced to be affordable.  Our trainers work with dogs all day everyday and we aim to reach every dog that needs our help regardless of the owners budget.    
2016/17  Dog Training Prices
Initial Consultation onsite at Woofers HQ:  $110 Initial Consultation In-Home:  $160 Repeat Session from $88 Private Sessions (dog & trainer) $66 Some travel or after hours surcharges may apply